2022 NAMA Grand Alumni Homecoming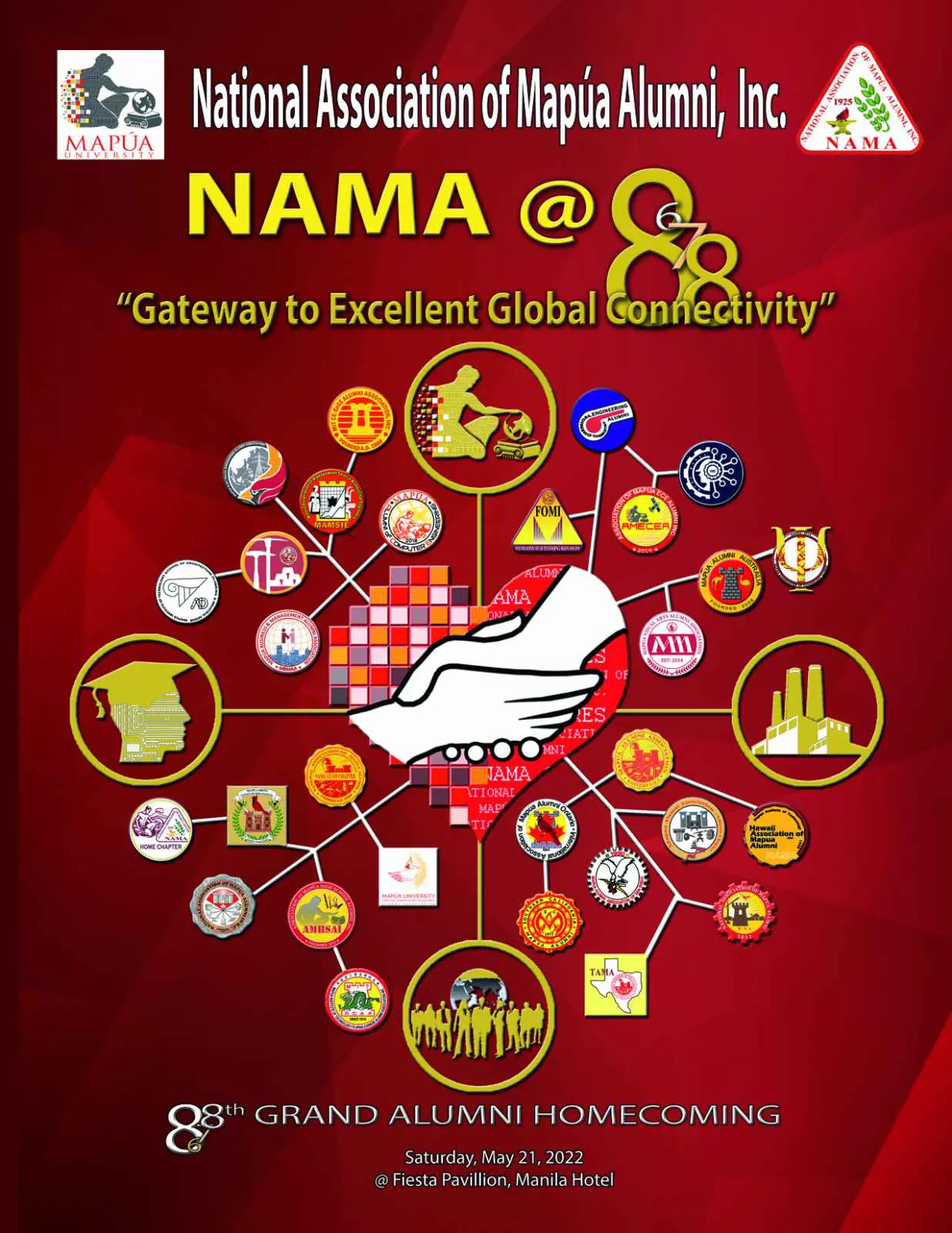 The National Association of Mapúa Alumni, Inc. will be holding its Grand Alumni Homecoming on May 21, 2022, at the Manila Hotel with the theme "NAMA @88 Gateway to Excellent Global Connectivity."
The Grand Alumni Homecoming will be a hybrid event, and all Mapúa alumni are invited to join the celebration either physically or virtually.
The event will recognize the ff Jubilarians:
Silver Jubilarians: 1995, 1996, 1997 (Champions: Dennis V. Cajano and Ed Carillo)
Pearl Jubilarians: 1990, 1991, 1992 (Champions: Jhun Paculan and Leah Pueca)
Ruby Jubilarians: 1980, 1981, 1982 (Champions: Froilan Martillano and Josie Ng)
Golden Jubilarians: 1970, 1971, 1972 (Champions: Manny Paulino and Rudy De Torres)
The event will also recognize the 2022 NAMA TOM Awardees. Part of the proceeds of the Grand Alumni Homecoming will be given to the NAMA Scholarship and Outreach Programs.
For more information on the event, please watch the teaser video at https://youtu.be/CZdz0-9Ty1I.
Participants may register for the Grand Alumni Homecoming through the link below. Limited tickets for face-to-face participation are available.
86th, 87th and 88th Grand Alumni Homecoming Online Registration (office.com)
For more information you may contact the ff:
ARNEL A. INANDAN
Mobile: +63 908 886 6834
Email: arnelinandan@yahoo.com
JOSEPH Y. CU
Mobile +63 918 942 4286
Email: josephcu57@gmail.com
ROBBIE C. MORENO
Mobile: +63 920 926 1719
Email: rcmoreno2010@yahoo.com
JOSEPHINE A. NG
Mobile: +63 920 945 3620
Email: jang@mapua.edu.ph
ROSE CRUZ
NAMA Office, Mapua University Campus
Mobile +63 998 574 5328 Email: nama.88th.homecoming@gmail.com